Cleerly Expands Board of Directors with Three New Members
---
NEW YORK – November 09, 2021 -- Cleerly, the company creating a new standard of care for heart disease, announced today it has expanded its board of directors with three new medical and investment leaders. Kevin M. King, Glenn D. Steele Jr., MD, PhD and Roy Beveridge MD have joined the board to advise the company as it works to identify individuals at the earliest stage to prevent heart attacks and save lives with its digital care pathway solution.
"We are pleased to welcome Roy, Kevin, and Glenn to our Board of Directors. All three join our board with highly impressive backgrounds as leaders in the healthcare space," said James K. Min, MD FACC, founder and CEO of Cleerly. "Cleerly has grown significantly in the last year as we work to create a world without heart attacks, and we don't have any plans to slow down. Having the right experts on our team is key for us to accomplish our goals, and our new board members impeccably fit the bill."
Kevin M. King has nearly three decades of experience serving in leadership roles within medical device, digital healthcare services and information technologies segments. For a decade, he worked at iRhythm Technologies where he led the organization as president and CEO and remains a director of the company. He has also previously served as president, CEO and director at Affymetrix, Inc., president and CEO of Thomson Healthcare, and a senior executive at GE Healthcare.
Glenn D. Steele Jr., MD, PHD serves both as chairman of GSteele Health Solutions, an independently operated venture helping healthcare organizations create value and improve quality, and chairman of City of Hope, a national leader in advancing cancer research and treatment protocols. He is the former chairman of xG Health Solutions and former president and CEO of Geisinger Health System.
Dr. Roy Beveridge is currently a senior advisor at Avalere, and recently served as Humana's chief medical officer where he led clinical policy, population health and clinical quality initiatives. Dr. Beveridge has held similar roles for US Oncology and McKesson specialty. A medical oncologist for more than 25 years, Roy's recent work has focused on social determinants of health and improving the health of underserved populations.
Additionally, Cleerly has assembled a panel of board observers including Greg Banker, vice president of Vensana Capital; Cynthia Yee, principal at Vensana Capital; David Kim, MD, managing director of DigiTX Partners; AJ Shimoga, senior associate at Cigna Ventures; and Craig Cimini, managing director of Cigna Ventures.
Media Contact
Resources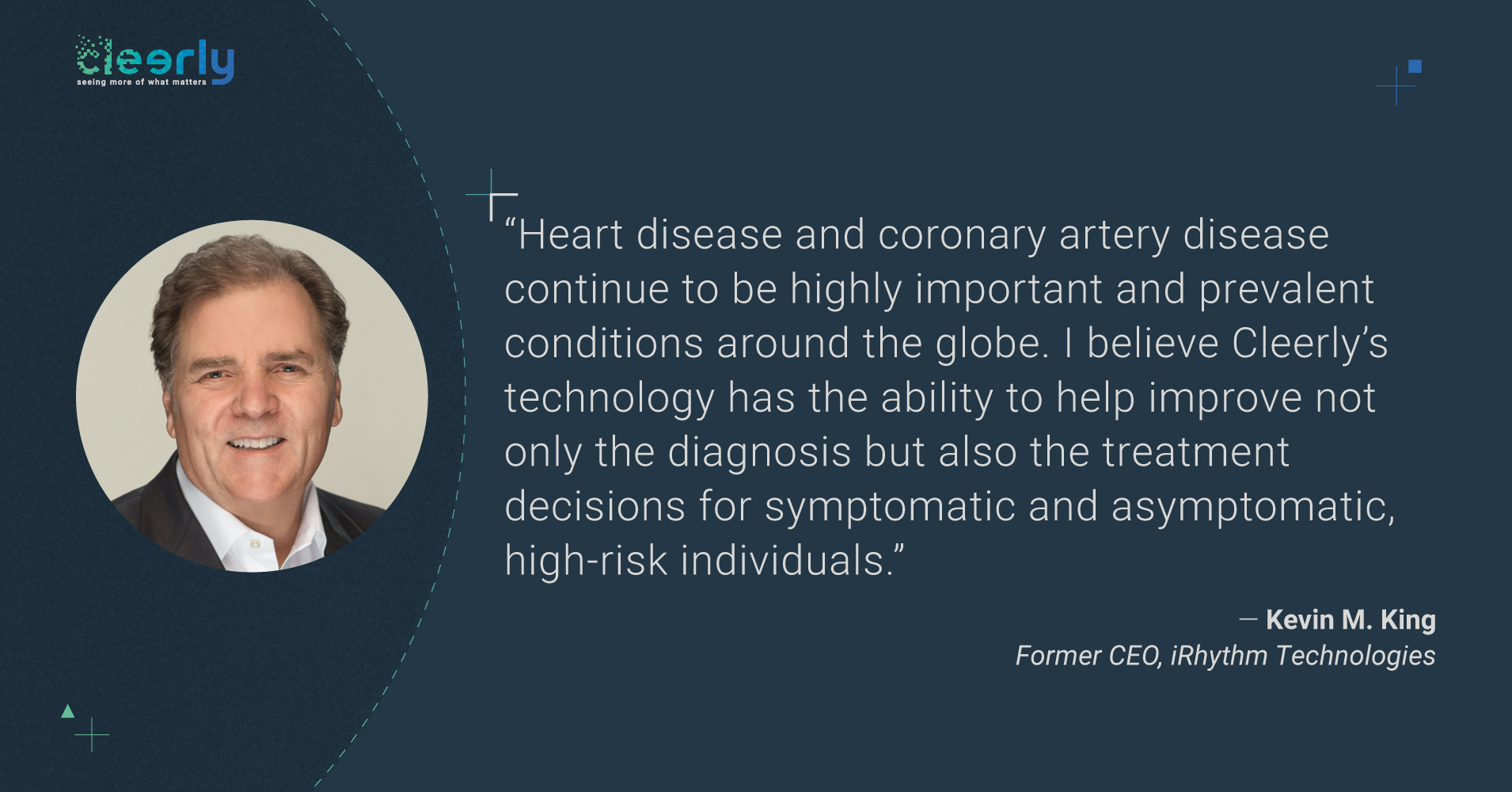 ---
Kevin M. King
Former CEO, iRhythm Technologies
Download image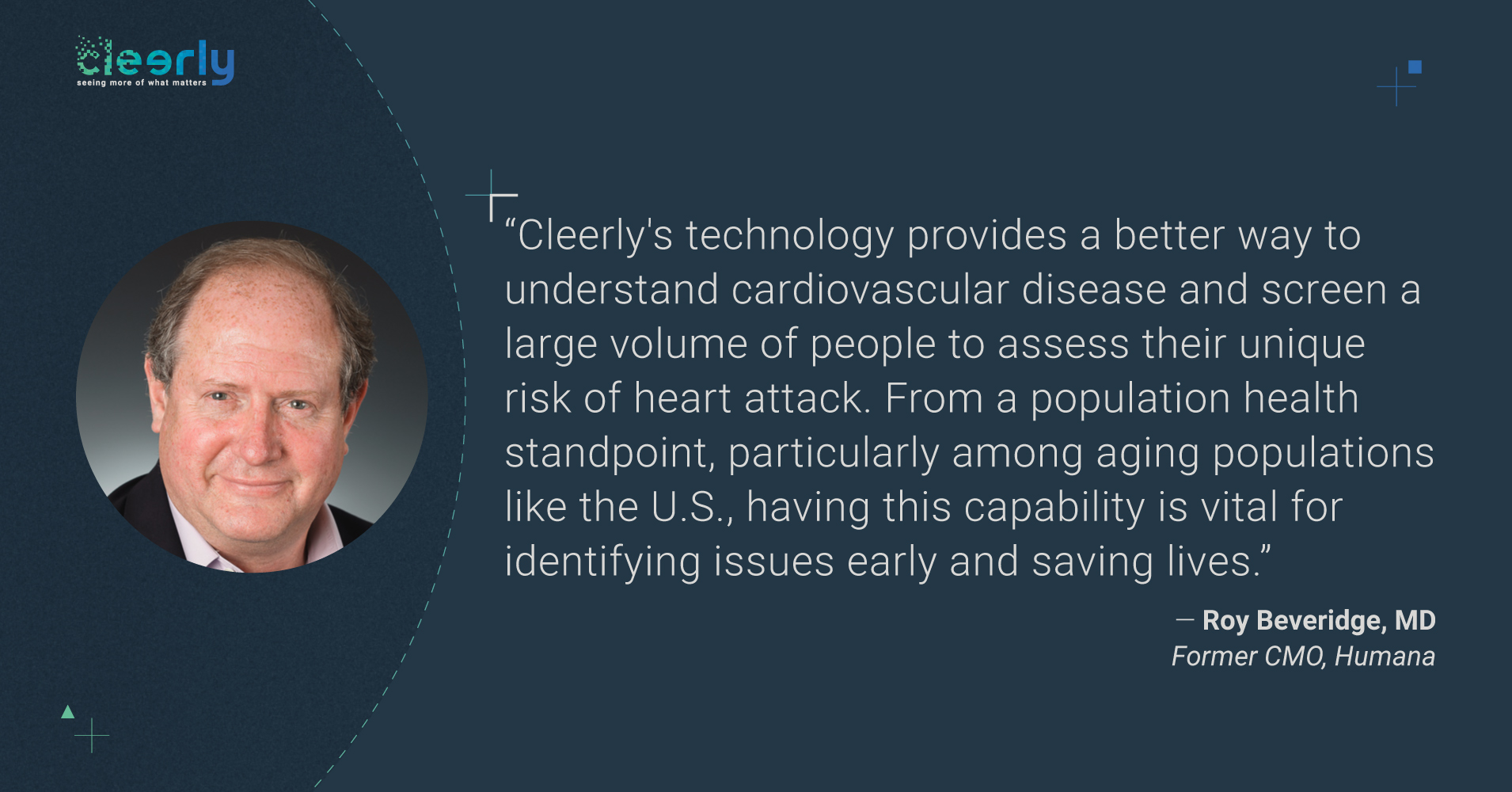 ---
Roy Beveridge, MD
Former CMO, Humana
Download image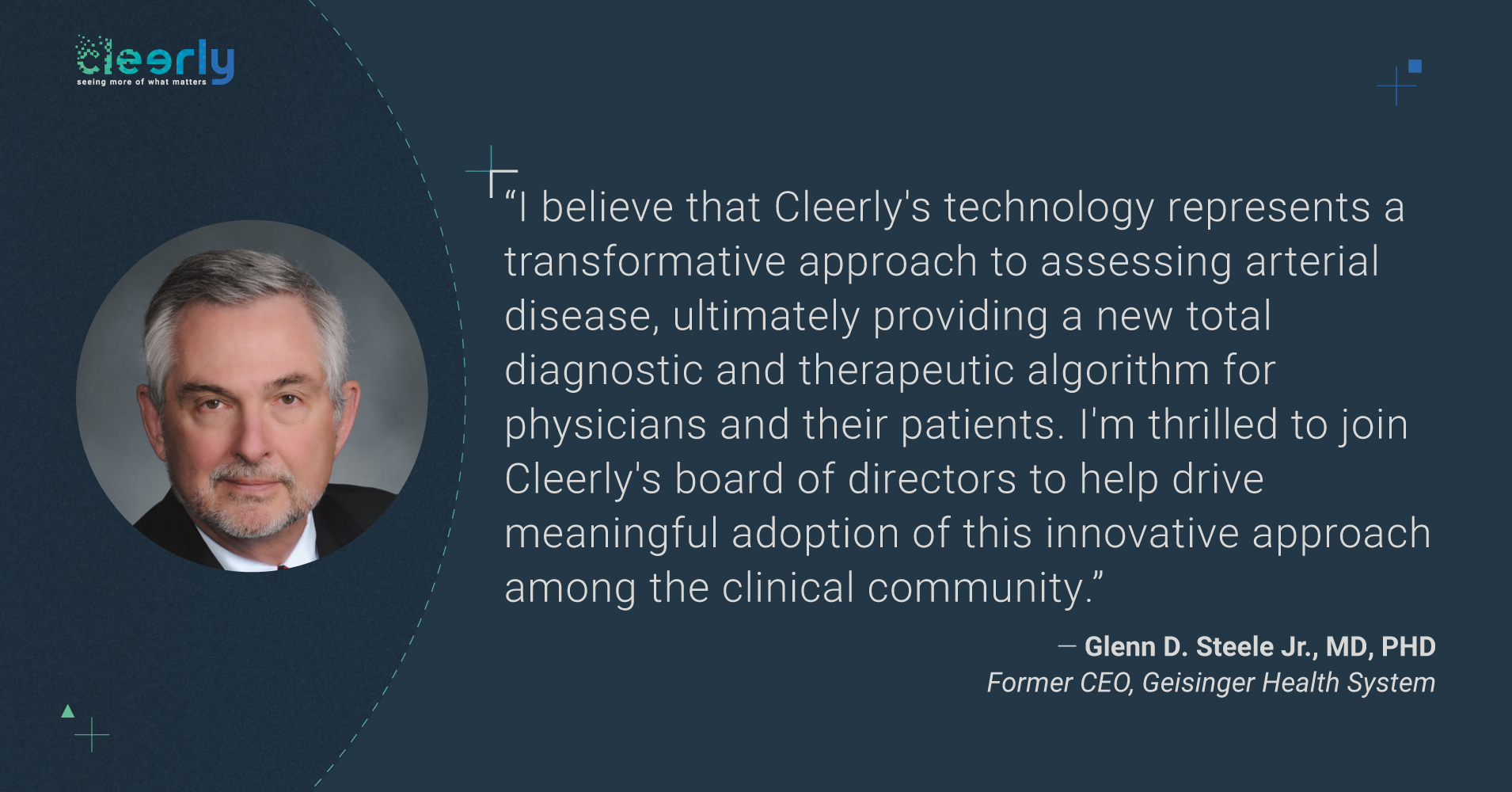 ---
Glenn D. Steele Jr., MD, PHD
Former CEO, Geisinger Health System
Download image
###
About Cleerly
Cleerly is the company creating a new standard of care for heart disease. Through value-based precision diagnostic solutions driven by machine intelligence, Cleerly enables comprehensive phenotyping of coronary artery disease, as determined from advanced non-invasive CT imaging. Led by a world-class clinical and technical team, Cleerly enhances health literacy for each and every stakeholder in the coronary care pathway. For more information, please visit: https://www.cleerlyhealth.com.
Press resources
If you are a member of the press and would like to speak with a Cleerly spokesperson, please reach out to us at press@cleerlyhealth.com.